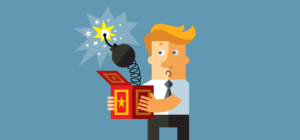 Some surprises are nice, like finding $20 in your jacket pocket. But like tax audits and flat tires, other surprises are less pleasant. Surprises about your brand new inventory and accounting software fall into the latter camp. Fortunately, there's a lot you can do during the software selection process to avoid them. Simple steps like rephrasing questions, meeting support staff, and itemizing implementation costs can reveal a host of overlooked issues. This white paper gives tips for getting a clear vision of your options, so there are fewer surprises once you sign a contract.
DON'T ASK "YES/NO" QUESTIONS
Ask five ERP (Enterprise Resource Planning) software sales reps "does your system have X feature," and their answers will almost certainly be "yes." That's because most ERP platforms handle the same general processes. So, instead of asking "do you have X feature" ask "how do you handle Y process."
Asking "how" highlights the differences between platforms. For example, there's a range of ways to handle custom orders, from automated workflows and scheduling to manufacturer interfaces and product configurators. Asking "how" lets you see those differences.
SHOW, DON'T TELL
"Show me" is one of the most important phrases when buying software. If there's a make-or-break process for your business, don't settle for the sales rep's description of how the system handles it. Ask to see it in action – a lot. Go through several typical examples and multiple worst- case scenarios. The goal isn't to stump the vendor. It's to get an accurate sense of the software's abilities and limitations.
STEP AWAY FROM THE SALES REP
You may really connect with your sales rep, but once a contract is signed, you won't see much of them. Instead, you'll be working with implementation teams, support techs, developers, and consultants. They set up your system, answer your questions, and move your business forward-  for the next 10-20 years. So make sure you want to work with them. Signing your contract without meeting customer support is like agreeing to a marriage without meeting your future spouse.
GET THE TRUE COST OF OWNERSHIP…FOR THE NEXT 5 YEARS
Ask each vendor to calculate the true cost of ownership for their system for the next five years. It clarifies costs, and may highlight some unexpected key differences.  Each vendor may have their own method for calculating the true cost of ownership, but here are some of the elements they should address.
HARDWARE
User Hardware: Determine if your existing computers and printers can support the new software or if you'll need to upgrade your equipment. Also consider any specialty hardware you'll need to purchase such as RF scanners, credit card readers, GPS trackers, or mobile tablets.
Data Storage: Vendors usually charge a monthly fee for hosting customer data. If you plan on using your own server, factor in operational costs such as electricity, anti-virus software, disaster recovery plans, and employee hours. Assume at least one major repair/replacement cost in the next five years.
Data Migration: Your data needs to be formatted for the new system and moved to a new database. (This is true even if using your own server.) In addition to quoting their own fee for this service, have the vendor estimate the amount of time your staff will need to dedicate to the process.
SOFTWARE
Software Licenses: Enterprise software has two pricing models. A perpetual license means you pay a one-time sum and "own" that version of the software. A subscription license is where you pay a monthly fee to access the most current version of the software. Perpetual licenses usually charge additional fees for customer support and new features. Subscription licenses (called "Software as a Service" or SaaS) usually include support and upgrades with the monthly subscription.
Customizations: If you need a feature, report, or interface that's not available in the core platform, you may need the vendor or a contractor to develop the enhancement. In addition to development costs, some custom modifications require special maintenance whenever the core platform is updated. Have vendors explain how they handle and bill for customizations to their platform.
Customize vs. Configure: Some systems have configurable features users can adjust without assistance from the vendor. For example, a configurable dashboard allows users to add, remove, and rearrange items. Ask each vendor to determine if the changes you want can be done by configuring their existing system or if they will need to develop a custom solution for you.
Implementation: Core elements of a system implementation include business process reviews, system configuration, setting up vendor integrations, user training, and go-live support. Vendors may offer some, all, or none of these services. Some vendors charge a flat fee for implementation and others bill hourly.
Support: This can be tricky to calculate, as every vendor has their own approach to support. Get documentation about services offered, noting which are free and which are billable. When each vendor estimates your yearly support costs, discuss how they arrived at that number. (For instance, perhaps they forecast you will only place three support calls per quarter. If that's not a realistic assumption, adjust the estimate.)
STAFF CONSIDERATIONS
User Licenses: Most subscription software is priced in one of two ways: by named users or by concurrent user licenses. Named users mean you pay a fee for every individual user at your company. Concurrent user licenses are like access passes shared by all the users in your system. (If you pay for 20 concurrent user licenses, up to 20 employees can use the system at once.)
Staff Costs: Determine if you'll need to reallocate or expand staffing to support the new system. For example, if you've been relying on your controller to also act as IT administrator, that may no longer be sustainable. You will likely need a dedicated system manager to focus on optimizing your investment. If you intend to do a lot of customizations, you may want to budget for additional staff or regular contractors.
User Training: This includes vendor and contractor fees for the initial implementation training as well as ongoing training costs. If you want your system admin and high-level managers to have in-depth training at workshops and user conferences, include registration and travel expenses.
Lost Productivity: All businesses experience a temporary decline in productivity when they change software. Not only does implementation and training cut into people's time, every department runs slower as the staff adjusts to the new system. Estimate productivity costs by talking to industry peers about their own implementations. Find out how long it took operations to normalize and what factors helped or impeded progress.
FUTURE PLANNING
Growth: If you have plans to hire more people, open new locations, or offer new services, factor in costs for additional user licenses, additional hardware, training, and support costs. Additionally, if you plan to make other major technology investments, such as opening an e-commerce platform or installing WMS, incorporate those into your calculation.
Yearly Price Increases: Most vendors can't guarantee pricing for the next five years, but you can forecast the trend by looking at the past five years. (Note: if a vendor guarantees a set price for five years as part of the contract, you'll want to investigate their historical price increases. It won't affect your cost of ownership in the next five years, but you should know what to expect at year six!)
REQUEST A PRODUCT ROADMAP
One of the worst ERP surprises is discovering your current system is being phased out by the vendor. Getting a product roadmap can help you gauge the long-term security of a given system.
CHECK THE COMPANY PROFILE
Ownership structure, leadership tenure, and acquisition history tell you important things about a company's stability. Frequent changes in senior leadership or ownership can lead to frequent changes in strategy and priorities. If new owners decide to sunset your platform or sell it off to the highest bidder, it can upend your business.
GOING FORWARD
Choosing new lumber yard inventory software is intense. It's easy to develop tunnel vision around a handful of features and functions. Remember the big picture. Researching company histories and calculating total cost of ownership may not change your decision, but they will help set realistic expectations, increase your odds of success, and reduce your risk of unpleasant surprises.